Hello, and welcome to The Edge, the newsletter that brings you groundbreaking stories from the frontiers of technology and science.
We've got some great stories for you today, including Starlink getting some sunshades, Messenger offering group videos calls and a hyper-accurate map of the moon. As always, we've added extra stories under each article should you find yourself in a curious state of mind.
---
Zoom, Houseparty and now - Messenger
Image credit: The Verge
Messenger Rooms are Facebook's answer to Zoom and Houseparty for the pandemic
Video calling has never been more crucial, with the COVID-19 pandemic forcing people to distance themselves from one another and their offices. Facebook Messenger has now joined the fray, offering their own mass-video call service to rival those of Zoom and Houseparty.
Called Facebook Rooms, the new service lets up to 50 people join a call with friends being allowed to drop in and out whenever they like. The room's creator can lock the room or make it open so anyone can join. You'll be able to create rooms from Messenger and Facebook to start with, with support for Instagram Direct, WhatsApp and portal being prepared for launch down the line. Messenger Rooms will be available some time in the coming weeks.
Next to Rooms, Facebook will also be increasing WhatsApp video call capacity from four to 8, adding new live-streaming features to both Facebook and Instagram and adding video calls to Facebook dating.
Zoom and Houseparty have seen unreal growth
---
Cool shades, Starlink
Image credit: SpaceX
SpaceX's Starlink satellites will soon get glare-reducing 'sunshades', Elon Musk says
Starlink has been under fire from astronomers for a while, for a very specific reason - astronomers fear that the glare from the bright satellites will disrupt scientific observations.
Now, SpaceX founder Elon Musk has announced a potential solution in a tweet. While he didn't elaborate on the details, he did announce that solar panels on the satellites would be angled differently to reduce glare and that all satellites from Launch 9 onwards would get special 'sunshades'. In another tweet, Musk said about the sunshades: "It's made of a special dark foam that's extremely radio transparent, so as not to affect the phased array antennas. Looks a lot like a car sun visor." Launch 8 is scheduled for May, meaning that Launch 9, which will carry the shady satellites into orbit, should hopefully launch not too long after that.
---
A piece of Apple history
Image credit: Chris Ratcliffe/Bloomberg/Getty Images
Apple Watch designer reveals the device's origins on its fifth birthday
As far as smart-watches go, Apple's Watch is probably the most well-known. First released in 2015, the Apple Watch has become hugely popular, even outselling all Swiss watchmakers in 2019.
Imran Chaudhri, an ex-designer at Apple, has released a thread of tweets documenting the device's history. Chaudhri worked on other memorable products such as the iPhone, iPad and Mac next to the Apple Watch. The tweets shine a candid light on some of the design processes and plans that went into designing the now-iconic device.
---
Map of the moon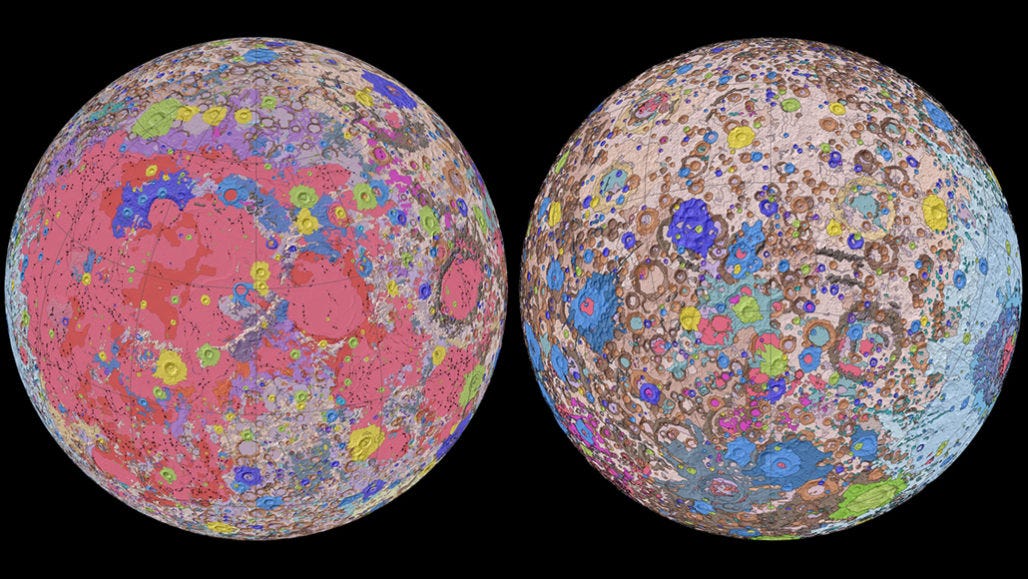 Image credit: GSFC/NASA, USGS
This is the most comprehensive map of the moon's geology yet
Believe it or not, what you see in the picture above is the moon. Cartographers have merged Apollo-era maps and lunar observations to create the most comprehensive moon-map yet.
Each splash of colour identifies a rock or sediment formation, including craters, basins and lava fields (all the colours are explained here). Comparing the colours to the images make it clear just how dynamic the moon's surface is.
The Unified Geologic Map of the Moon, as it's known, was created by combining information from six regional lunar maps from the Apollo era and recent spacecraft observations. This modern data includes views of the moon's north and south poles, thanks to NASA's Lunar Reconnaissance Orbiter and of the moon's equator thanks to JAXA's Selene lunar orbiter.