Hello, and welcome to The Edge, the newsletter that brings you groundbreaking stories from the frontiers of technology and science.
We've got some great stories for you today, including how Facebook tests updates, how the Curiosity rover team is coping with social distancing and the new iPhone SE. As always, we've added extra stories under each article should you find yourself in a curious state of mind.
---
If it ain't broke, don't fix it
Image credit: Apple
iPhone SE 2020: Apple announces new $399 phone
It's official - 2020 will see the launch of Apple's new iPhone SE. The SE is Apple's budget-friendly iPhone, aimed at people who might not want to dip into their savings to buy iPhone 11 or the pending, possibly-named iPhone 12. The SE is by no means a sub-par phone, it just doesn't feature the specs the flagship iPhone 11 does. It remains similar in look to the iPhone 8, which means it has a 4.7 inch screen, Touch ID on the home button and relatively large bezels. The new iPhone SE is essentially an iPhone 8 with a few extra selling points including a better camera, a lower price tag and Apple's A13 Bionic chip, the same chip found in the iPhone 11. The SE starts at €489 for the 64GB model, €539 for the 128GB model and €659 for the 256GB model.
---
Modern problems, modern solutions
Facebook is using bots to simulate what its users might do
Facebook has a lot of users - 2.5 billion, to be specific. Testing and debugging software patches and updates when you have more than three times the population of Europe as your user base is, quite frankly, tricky. Normally, software companies test software by seeing how it interacts with a single user and whether it performs as expected. Facebook simply can't operate that way.
In order to test software, Facebook has built a scaled-down version of the gigantic social network. Named WW, this version of Facebook lets engineers simulate user behaviour by using bots. By simulating hundreds to thousands of users at a time, engineers can identify what works and what doesn't at scale, with the system even recommending changes that can be made to enhance the user experience.
---
Working from home - on Mars
Image credit: NASA
NASA keeps Curiosity rover moving as scientists work from home
NASA's Curiosity rover can't contract coronavirus. However, the scientists controlling it from Earth can. That's why, just like a lot of people, the Curiosity team are now working from home, according to NASA's Jet Propulsion Laboratory. Necessary equipment was distributed to employees but more complex equipment, like 3D-imaging goggles, couldn't be sent to employees' homes. The solution was simply to use red and blue 3D glasses, which seems to have done the trick.
Like most people now working from home, the Curiosity team is relying more heavily on video calling software and instant messaging to communicate. Despite this, the Curiosity rover remains productive and continues to push the boundaries of what we know about the Red Planet. With any luck, the scheduled July launch of NASA's next rover, Perseverance, will mean Curiosity won't be alone on the planet anymore. Of course, who's to say it doesn't have company already?
---
Galaxy tablets getting size hike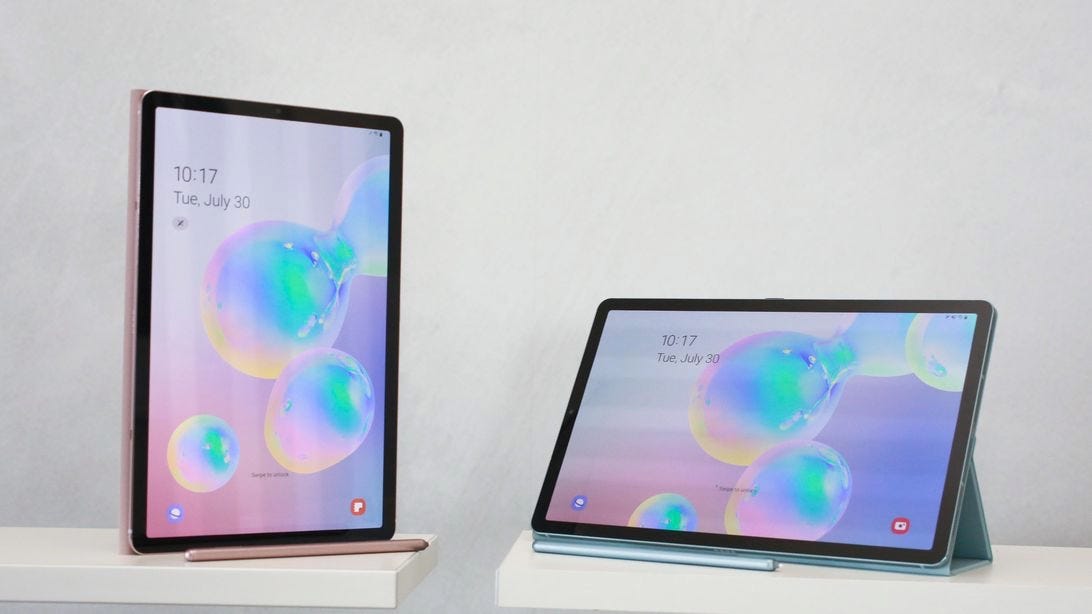 Image credit: Sarah Tew/CNET
Samsung Galaxy tablets rumored to go big like iPad Pro
Samsung's next flagship tablets, which could be named Galaxy Tab S7 or Galaxy S20, started development a few weeks ago, according to a SamMobile report. And size may indeed matter for Samsung, as they will likely come with bigger screen options than previous Galaxy tablets, with 12.4- and 11-inch options. These sizes would rival Apple's iPad Pro. While the tablet market isn't what it once was, Samsung continues to push out new tablets as one of the few consistent makers in the industry.